Technical Drawing Services is creating a plan as such that a person can visualize and follow how it needs to be carried out. This is also known as draughting or drafting during this process. Technical drawings are very important, even if they aren't used as the main source of drafting and designing anymore. With CAD software, some might consider technical drawings outdated and useless. That's not the case, however. These drawings are still very important. Technical drawing allows efficient communication among engineers and can be kept as a record of the planning process. Since a picture is worth a thousand words, a technical drawing is a much more effective tool for engineers than a written plan. Technical drawings are usually made using computer programs specially designed for that purpose. They can be made in two or three dimensions.
Technical drawing services make technical drawings which are created on the basis of local standard code for a building. Before proceeding to the next step, these drawings require necessary approval from the concerned authorities.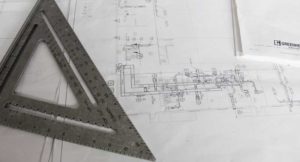 Technical drawings allow engineers to create designs, calculate forces and stresses on structures and work with manufacturers. Developing prototypes relies heavily on this form of drawing, especially when things are mass produced. It helps streamline the manufacturing process. The difference between a technical drawing and a more informal drawing or sketch, Is the degree of detail. With a technical drawing you get a meticulous look at the whole object; from the layout and the thickness of the lines to the descriptive geometry, text, size and symbols. Technical drawing services generally follows very specific rules and guidelines in order to make its intent clear and avoid confusion.
Technical drawing is the act or discipline of composing drawings that visually communicate how an object should be constructed or how it should function. This discipline is necessary to communicate ideas in the field of industry and engineering. Technical drawings are created and modified through a number of computer-aided design programs, such as AutoCAD and SolidWorks. These programs have long moved past cutting-edge status and are now practically considered a standard part of an engineer's skill set. The precise details of the technical drawing helps builders create objects without errors, delays or other costly issues. This, alone is the most important duty of the drawings. Because of the importance of accuracy in any technical drawing, the use of CAD, or computer-aided design programs, is becoming increasingly common. These programs increase the speed and accuracy of the drafting process, as well as making the reproduction of drafts as simple as printing text documents
In architecture, technical drawing is used to communicate all design aspects that the project must have. Technical drawing is fundamentally the pictorial and written form of representation of any construction, including every bit of detail such as wall color, furniture, floor space, material details, outlets, lighting, equipment etc. It is used as a final drawing on basis of which engineers proceed to further development.
If you need a technical drawing service  for your new home, remodel or other construction project, please call Alldraft Design Services.