Revise One of Our Stock Plans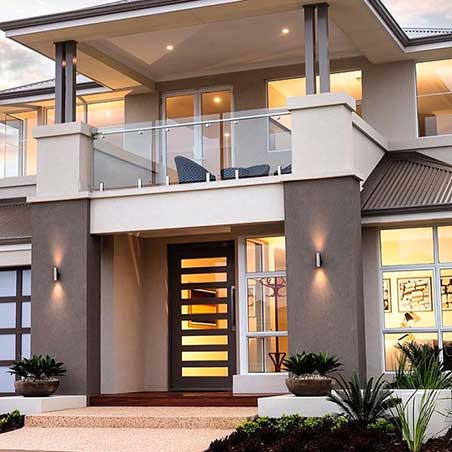 A stock house plan is a pre-designed house plan. It may have originally been designed as a custom home plan for someone else, or it may have been designed specifically to appeal to the masses. A stock house plan is usually the least expensive and quickest way to license a house plan for use. Our stock plan library contains thousands of previously designed homes conveniently grouped by style and square footage. If you can't find exactly what you're looking for is no problem, we can always make changes to the stock plans to suit your needs. There are far more advantages to building with a stock house plan as opposed to a custom home plan. Stock plans come in a vast array of sizes and styles providing plenty to choose from. You may find just the right floor plan for your new home. If you do not find a stock plan to fit your lifestyle, Alldraft Design Services can modify or customize a stock plan to fit your desires or take your sketches and notes and design a custom plan at the same discounted rate as the stock plans.
We know finding that perfect home plan to meet your needs and desires can sometimes be difficult! That's why we will modify any of our house plans to your specifications. Our stock house plans have won numerous awards and include luxury custom home plans, builder plans, garage plans, vacation homes plans and multi family home plans. We offer a modification service that will work with you to incorporate your desired modifications into the blueprints. This gives you a cost-efficient way to create your dream home. Typically, our home plan modification team can make the necessary changes for you. All of our plans at Alldraft Design Services can be modified to suit your requirements. For many different reasons, modifications may be desired. You may have site factors such as size, slope, or a spectacular view to consider.
Building with a stock house plan offers great resale value. Suppose, sometime in the future you find yourself in a situation where you must sell your home. You can take comfort in knowing that because you have built your new home with one of our top-selling stock house plans, it will most likely sell quickly. Our home plans are also designed for a range of homebuyers, whether you're looking for a single family home, a townhome, or a custom-designed home. Looking for a Ranch? Vacation? Traditional? Craftsman? Or a design entirely your own? Alldraft Design Services is ready to assist you in whatever kind of house plan you are looking for.
Our professional sales staff can guide you through every aspect of the home plan buying process. From choosing the best floor-plan to acquiring building permits, our years of experience will work for you. Floor plans can be modified to meet your needs cost effectively and quickly. They are a cut above the rest at a fraction of the original cost.