RV Barndominium is a rustic, open concept known to originate in Texas by horsemen who were tired of going out in the weather to check on their animals. It is a house and a horse barn/shop connected to each other with large garage. Through the years the concept incorporated large shops and office spaces when a typical garage would not do. At its core, the RV barndominium is a metal barn converted into a living space. They can also be called "barndos" for short, and are actually quite affordable, energy-efficient, and easy to maintain. RV Barndominium gives you plenty of room for your vehicles. Whether homeowners are seeking space to park vehicles, store RVs and equipment, engage in hobbies or create additional living quarters, these RV Barndominium offer a variety of options for adding space and value to your property. This type of building is typically built on an existing property or multi-acre home site and the structure often acts as a dual purpose living and shop or workspace areas.
RV barndominiums come in many different shapes and sizes to suit your particular needs, climate, building codes, and site requirements. In fact, that freedom of design is precisely what makes barndos highly attractive to buyers. Many of these homes feature energy-efficient windows, stained concrete floors, engineered concrete slabs, spray foam insulation, efficient plumbing and high ceilings. Generally, the costs to build a barn-style home from scratch are much lower compared to building a traditional home. Their cost-effectiveness is another big reason why barndominiums have become so popular. These homes offer features not usually found on typical homes including oversized roll-up doors and single enclosed areas large enough to hold things like boats and recreational vehicles.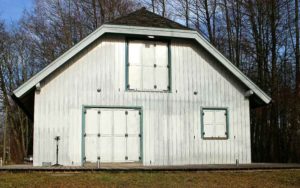 Barndominiums can be made with steel frames or wooden frames, and are designed with an open floor plan. Barn homes are typically built as a vacation home or weekend retreat, but can be used as main living quarters as well. With this luxury type building, being "raised in a barn" will soon become a compliment! These are unique homes and offer a certain lifestyle for those that love living in the country and the country lifestyle. Barndominiums are the perfect solution for modern day country living. The uses of a barndominium truly are endless; if you can think it, you can do it! It can be used as a custom home for you and your family, a smaller rental home on your property, an extension to your existing home, an office space, a storage unit, a garage, a horse stable, a personal work out center, an entertainment center, hopefully you get the point!
Today's barndominium has become known as custom homes with large, open floor plans using any esthetics to achieve the desired look. The options are endless. Barndominiums are an excellent way to explore a retirement home or a family home with a quirky but trendy twist. Whether you're looking for a home with a workshop, garage, barn, horse stalls, airplane hangar, or anything in between, Alldraft Design Drafting will help you design the RV Barndominium you've been dreaming of.