Pole barn house plans relate closely to Dutch Colonial house plans in that their defining feature is a gambrel roof. As a result, pole barn house plans can sometimes be referred to as gambrel house plans or gambrel roof house plans. It's this signature gambrel roof which gives, the home the look and feel of a barn, hence the term "barn house plan" or "barn home." Pole barn house plans feel both timeless and modern. Some might call these pole barn house plans. Barn house plans come in eclectic and varying styles with barn-like features and a comfortable sense of home that express unique lifestyles for the people who build and live in them.
Barn style house plans feature simple, rustic exteriors, perhaps with a gambrel roof or (of course) barn doors. Pole barn house plans provide generous, open interior spaces with plenty of opportunities to carve out rooms and add on additional volumes to the main "barn" while staying true to the functional, rural aesthetic. Aside from this plan providing the owner the opportunity of expanding the interior, it must be able to allow for the combination of the pole barn house with layouts for modern rooms or homes, therefore the plan must ensure that the pole barn house remains adaptable for the future.
Pole barn house plan exteriors are instantly recognizable due to their iconic shape and the specialized design materials used in the construction of these homes. Their facades often feature very similar elements in their design that may include gables, wraparound or deeply set and widely proportioned extended porches, warm woods, post, and beam construction or timber frames, stonework and exciting options for the windows and doors of these homes. Pole barn home plans tend to be two or one and a half stories tall. Bedrooms typically lie under the gambrel roof while the kitchen and living area rest on the main level. Like your typical Colonial house plan, a barn home plan design will typically feature a symmetrical facade with a central front door flanked by balanced windows. If you're planning to age in place, consider selecting a more modern barn house plan that features the master suite on the main level.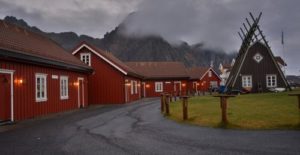 Pole barn house style plans vary in style, size, and function. They can feature any combination of doors and entries such as sliding doors, overhead garage doors, and barn stall doors. They can be one or more levels and include a loft or finished space such as an office or bunk room. There are a variety of barn designs to choose from ensuring you'll find one to fit your lot and accommodate your needs. Open-concept layouts inside give a contemporary vibe, especially when combined with luxurious amenities such as spa-like master bathrooms and large kitchen islands. Barn House Plans are quite versatile as many different home styles can be incorporated into both the exterior and interior of these homes. Oftentimes, these homes may be Ranch plans with plenty of living and private space on one floor; additionally, rustic comes to mind when mentally viewing the barn house plan as does modern. The modern farmhouse is a perfect example of incorporating different design styles and materials into an inspired version of a pole barn house plan. Many elements work within a wide range of plan styles and with a creative eye and some imagination, Pole barn house plans can feature a plethora of completed design ideas to enhance this unique way of life.
Barn living with today's modern features and construction materials provide an opportunity to live comfortably in a home with high ceilings, open living spaces and luxurious aesthetics. Historically iconic and simultaneously forward-moving, as a housing style continues to capture and charm the public. So if you want the look of country house plans with modern elements, a pole barn house is unique, eye-catching. If you don't want your new home to look like every other house on your street, selecting a barn house plan might be your best bet. These homes and living spaces are complementary to unique, personal lifestyles and tastes, and represent the best of American values, cultures and traditions.

Contact Alldraft Design Drafting. There are professional and reliable pole barn plans which are helpful and useful in creating the best pole barn homes. Alldraft Home Design and Drafting has been designing stunning homes for over 20 years. You'll find a blend of classic charm and contemporary design within our sample barn home floor plans. Alldraft Barn Homes are as flexible in design as their owners are in imagination.