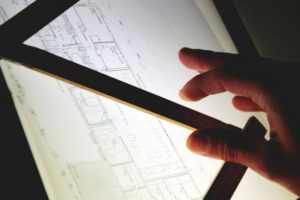 An designer is someone who designs homes and residential buildings, they are specifically trained and sometimes licensed to work on the planning and design of houses and other buildings. An designer is one who excuses themselves from the construction aspects of the building process, choosing instead to spend their time focusing on the actual design for residential building projects. it's always worthwhile using a design professional. An designer is one step below an architect when it comes to expertise. Before an architect gets licensed, he/ she is an designer. They can create custom plans, and should have full working knowledge of the building code and local building department requirements. They can help you find the best solution for your home design and building project; they will advise you on where to spend your budget and where to save; This is a somewhat privileged position for an architect to attain-most architects prefer to design, but involve themselves in construction management because of business demands. designers arrange maximum usability for all sorts of structures, from homes to barns and garages.
designers have to design livable spaces for each house or office building. Kitchen spaces, living rooms, bedrooms, halls and balconies must be arranged in a balanced manner that is efficient and usable.
An designers role is important in every stage of the building's construction, from the initial concept to the final certificate of occupancy when the home or building is complete. Beyond completion, an architect designer often remains involved in a project as buildings evolve to incorporate new surroundings and ideas. An designer typically needs a college degree in architecture or construction, as well as professional experience in the field.
The role of an designer is to bring together the creative ideas and visions of the client and keep in mind the needs of those that will be using the new home or office space. They meet with the client to discuss the client's budget and preferences. Both designers and drafts people know how to draw and understand the construction of houses and commercial buildings enough to document them in drawing form but the extent of their knowledge of all the working parts of a house or building can vary. After incorporating home owner comments on concepts, the designers work with structural engineers to create a design that works within the client's budget. During the homes construction, they provide drawings to the construction team and monitor progress to make sure it is faithful to the design.
An Designer is more than capable of carrying out most residential projects, and in most cases will be a more affordable option than using a licensed architect. Design has the power to make or break a project. If done well, it will make your new home your happily ever after home. If done poorly, can become a big money pit and lead to much dissatisfaction. Many people make their decision based on the person, their portfolio and their people skills rather than their exact qualification.
If you need an Design for your new home, remodel or other construction project, please call Alldraft Design Services.