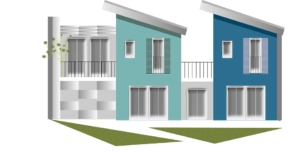 The design process is an approach for breaking down a large project into manageable chunks. Architects, engineers, scientists, and other thinkers use the design process to solve a variety of problems. Every project has its own unique requirements and each project must be approached individually. The intent of this list is to acquaint you with the design process and the terminology used to describe each phase of the project. The design process is a broad guideline to managing a successful design project. Smaller projects may not include all phases, or certain phases may be combined while larger projects may include additional non-traditional phases, such as post-construction project management.
The process of designing a building, space or structure typically consists of these design phases. It is important to understand and remind yourself of these phases, to bear in mind exactly what you're trying to accomplish. The process is data-centric rather than product-centric and ensures synchronization between views while ensuring that all essential data relationships are captured to support a wide variety of analysis tasks.
The following is a brief description of design process.
Programming & Schematic Design
programming is the thorough and systematic evaluation of the interrelated values, goals, facts, and needs of a client's family and the surrounding community. This is a vital preparatory stage during which an architect generates a program with client input. The program describes the nature and approximate size of the spaces to be included in a project and how they might relate to each other.
Design Development (DD)
Once the SD is approved, the architect will incorporate the mechanical, electrical, plumbing, structural, and details to produce a more accurate set of drawings. Throughout DD, it is important to evaluate how systems, material selection, preliminary structure, and detailing reflect the schematic design concept.
Construction Documents
The Construction Documentation phase completes in detail the requirements for permitting and construction of the project.  These include construction drawings, outline specifications and schedules, all of which are necessary to determine a credible construction price, obtain a building permit, and construct a project. This set is complete with construction details and engineering coordination, and can therefore be used for bidding
Bidding or Tender
During this phase, the architect will prepare bid documents to be distributed to contractors for pricing. An architect on your side during the bidding phase of home or building construction is of great advantage to you in developing a list of qualified contractors for your bid list and submitting bid packages to bidders.
Construction Administration
Finally, once you have selected a contractor and construction is under way, we move into the fifth phase of the design process – construction administration. Construction Administration will consist of the architect reviewing shop drawings for various building components such as, roof trusses, floor trusses or engineered joists, steel frames, plumbing systems, electrical systems, and HVAC systems. The architect's main responsibility is to help the contractor build the project as drawn, and in that role, the architect will provide clarifications, sketches or approve alterations from the drawings.