Barndominiums are becoming explosively popular these days. One of the latest real estate trends to take hold in the United States is the "barndominium" concept. You can find at least one in almost every state in the U.S. Barndominiums are primarily constructed or converted in the rural countryside to capture and blend in with the ambience. The concept has taken sites like Instagram and Pinterest by storm as barn style garages transformed into living spaces are popping up all over the United States. Initially, most barndos were simply barns renovated for living, but as the trend grows, some people are building barndos from the ground up. If you have the money, you can stake your claim wherever there is space.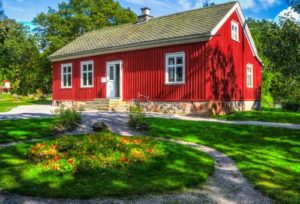 The concept of a barndominium is designed to keep the cost of living down as you essentially live where you store personal vehicles and other belongings below the living space. These barndominiums receive conversions so that they become usable living spaces. In some cases, especially where the homeowner need a living/working space for a small business the barndominium can serve the dual function of having a shop and/or workspace on the lower level, and a living space on the upper level. Many barndominiums are second homes or weekend homes, and for some, it is a transition or interim home. These structures stand apart from traditional and tiny homes in that they may literally have been a barn or warehouse that has been renovated to include several rooms, bathrooms, kitchens and other living areas. They often have open floor plans and can also be dual-purpose—combining a residence with areas used for other functions such as offices, garages, workshops, places of worship or meeting centers.
There are many barndominium pros and cons, few of them listed below
List of the Pros of a Barndominium
Faster to build
Barndominium is constructed quicker than a traditional stick-built home. If you use the metal frame style for a new barndominium, then the amount of time it takes to put up the structure is significantly reduced. With less framing work the labors savings are passed on as part of the final project costs.
Durability
One of the primary reasons why the barndominium trend is taking off in rural communities is the fact that many of these buildings are made from steel. Unlike wood and siding, metal lasts a very, very long time. Metal roofs boast a 40-70 year lifespan! You can rust-proof and paint metal to increase its durability and to get the look you want.
Aesthetics
There is no denying that metal barndominiums look great. There is no limit to what you can do with the basic barn structure, and for those that love the country life, a "barn" is the best way to indulge in country living. Barndominiums give you an excellent dual-purpose solution if you are self-employed or work from home. The design of each one allows you to maximize the space that you have, allowing you to create a home office, a commercial outlet, and a place to live all at the same time.
Superior energy efficiency
Metal frames readily accommodate insulation. This is a lot of space in between the frame members and the panels. Also, insulation is offered that fits well within the frame member. Insulation keeps the building at a comfy temperature with less requirement for heating and cooling.
Although there are numerous advantages of building a barndominiums, this type of structure still have its drawbacks.
List of the Cons of a Barndominium
Corrosion
Uncoated metal rusts, that's all there is to it. Steel that is not protected by galvanization or a finish corrodes in the presence of moisture. When you opt for a metal-based barndominium, then there are corrosion issues that you'll need to manage. These problems for either structure are especially prevalent in areas with a tropical climate.
Health might be affected
People who have an allergy to metal or its finishing paint are better to avoid this kind of building. Metal or unique paint finish it may trigger a dreadful irritation to numerous individuals who are allergic. It's getting worse by molds.
Fabrication error
While steel is a versatile material, it is not easy to make field corrections if one or more components do not fit properly. Any home can encounter this disadvantage with any form of material. The issue with barndominiums involves the fact that most of them are metal. You cannot make the same field corrections with steel that are possible with wood, brick, or stone.