Pole barn plans come in every size and style imaginable. So how do you sort through all that variety and find the garage building plans that are right for you? It may seem like a daunting task, but be assured, Alldraft is here to help you through it. Pole barn or post-frame barn is a type of barn that is the easiest and cheapest to build because it doesn't require foundation and complicated structures. This is perfect if you don't want to hire a contractor or if you don't want to spend a lot of money. Pole barns are a staple of the average homestead or farm. You need a barn for multiple purposes. Either it is to store your produce of grain, or to keep the livestock fodder dry and safe. Or you need space to keep the livestock itself, if not the tractor that you use on your farm. Barns are large enough for storage yet small enough to not take too much land space.
A "pole barn" can come in many forms. It can be a backyard garage, a horse barn, or a storefront for your business. Before we get into some of the important parts of building a pole barn, let's clarify what we mean by "pole barn." Let's start with your dreams and ideas. You have particular needs in mind that need to be met. After all, that is why you are here, isn't it? You are looking for a plan that meets those needs. Every person has unique needs of pole barn. If you're looking for a custom pole barn plan, then you have come to the right place. What is also great about barns, and especially pole barns, is that they aren't too difficult to make. Unlike other structures, they do not require an elaborate planning or understanding of techniques. It also helps that most of the barn on the inside is pretty empty. But, what is required for building a barn is the know-how, both while constructing and before constructing. Which is why pole barn plans are important.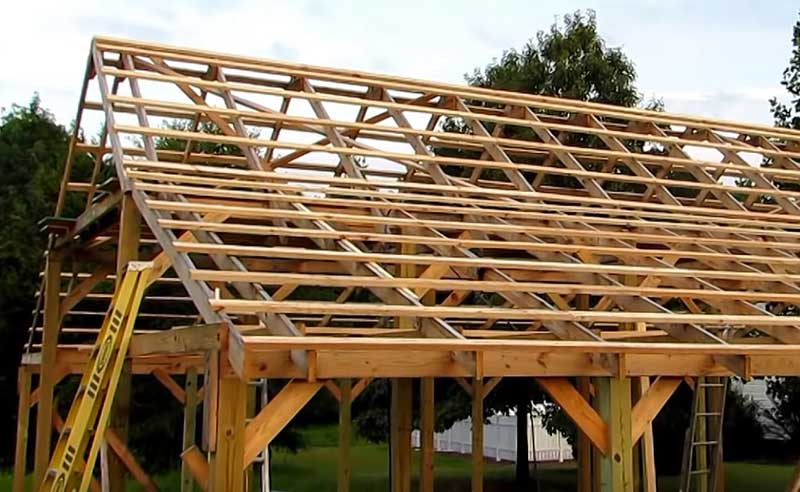 You tell us what your needs are and we will help you design that perfect pole barn plan that will fulfill those needs. Your pole barn plan will be customized just for you. There will be no other barn like it, it will be unique and fitted to your personality. When your barn is completed you will be able to look at it and truly say "This is My barn!". Our pole barn plans are specially designed to support the unique needs associated with a rural life style. Suitable for the storage of large farm equipment and related implements, our pole building garage plans offer a variety of versatile options including stalls for livestock and additional storage for tools, machinery and hay. Some of our pole barn plans are designed as complete enclosures while others feature three sides with an open or exposed front. Whatever your needs, we have a design to meet them.
We can design you any number of pole barn plans to fit every need, including metal garages, horse barns, storage sheds, steel shop buildings, commercial buildings, and more. Pole barn plans used for all types of building these days whether your needs are large or small; pole barn buildings can be the solution your looking for. These structures are easy to build, and their metal exterior makes them highly durable. Over time, farmers expanded on the uses for this building type. Some had a pole barn with living quarters. Others took it even further and built their entire home in the pole barn style. Most of these early versions evolved from traditional wood materials. Our pole barn plans are designed to incorporate simple joinery using modern timber framing screws and some steel plates that are just bolt in place. If you can cut simple angles with a skill saw, drill holes with an auger bit, and twist a wrench then you can build your own post and beam barn with these pole barn plans.
If you have a garage, shop, horse barn, arena, home or commercial building in mind, custom designed and drafted pole barn plans are the easy answer. Each set of pole barn plans is drafted in approximately one week and then emailed for your approval prior to mailing printed plans. Alldraft's number one priority in producing pole barn plans which lend to professional results for your new building. Whether you build it yourself or hire a pole building contractor, having easy to read and understand pole barn plans is key to your masterpiece dream building. When designing a pole barn plans, consider traffic patterns and access for people, animals, equipment, supplies, et cetera. Be sure that the dimensions for your doors and material movement areas will be wide enough to accommodate your traffic.
Although pole barn buildings are used for just about every type of building these days, pole barns – horse barns are one of the most common applications of pole buildings today. Large or small, simple or complex, Alldraft Design Drafting combines excellent design versatility with the latest in building engineering technology to create sophisticated, visually-appealing pole barn plans. Unlike a stick-built home, pole barn homes have no load-bearing walls. That means you can do just about anything you want with the interior of the home. You're only limited by your imagination when it comes to customizing your home's interior. One of the main advantages to building a pole barn home is the cost savings. Pole barns are significantly cheaper to build than other construction methods. Why? Because the building requires fewer materials.
At Alldraft, we give you complete set of pole barn plans that you can print as many times as you need. You can print a set for you, your builder, and whoever else needs a copy. There is enough information on the plans for you or a contractor to build your barn from scratch. You will know exactly what size lumber you need, where to make your cuts, at what pitch, where to attach your plates and, what joints require GRK screws.